Our Unique TRX Fusion classes are an excellent choice if you are a beginner or are looking to change things up. We incorporate TRX Suspension trainers in some of our classes to complete a total body workout. The TRX Trainer will increase your strength, balance as well as core stability and flexibility. All levels of fitness can be accommodated.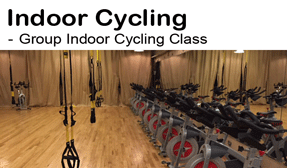 Whether you choose our 45 min Core Cycle or 60 min Cycle Fusion class, you will leave feeling totally energized and motivated to take on any task! Our team of instructors will inspire and challenge you while enjoying high energy music. Our private cycle studio allows you to clear your mind and connect with our true and best selves.
Our signature circuit-style Bootcamp incorporates strength and cardio into one amazing workout. You will target all muscle groups for a full body workout. A different session each time, keeps you coming back for more. Achieve the results you want with our highly qualified team of coaches. Our Bootcampers develop an unshakeable bond with one another.